Published May 08
You might ask: why do I need a GPS (Global Positioning System) receiver? Well, if you have to go into Guadalajara for a doctor's appointment, it will make the trip less stressful and faster to have a device that speaks the names of the streets and instructs you in advance where to turn. There are other ways to use a GPS receiver, such as making waypoints or tracks, but navigation is its most important function.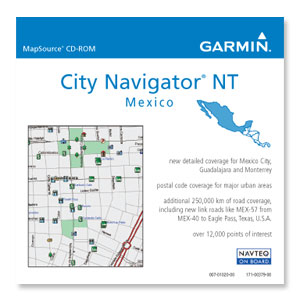 At the beginning of this year Garmin released the City Navigator Mexico NT 2008. Recently this product's price has dropped to under $100 making it a fairly inexpensive add-on to your Garmin GPS receiver. This product is very easy to use (it comes on an SD card), but it only works in the
newer Garmin NT receivers
. A CD-ROM version is also available. Check garmin.com for compatibility with your receiver.
City Navigator Mexico NT 2008 comes with auto routing for Mexico, expanded coverage area and searching by zip code in some cities. Includes more cities and street coverage than any other GPS map of Mexico to date. This comprehensive map is compatible with most Garmin receivers including Nuvi and StreetPilot.
Address search is available in the following cities: Mexico City, Guadalajara, Monterrey, Tijuana, Mexicali, Juarez, Puebla and Hermosillo. More cities might have it also but these are what we have found so far. In the rest of the Mexican cities a street search and/or intersection search will get you very close to your destination.
Garmin's new map does not have topographic information included nor is it available as a download.
GPS Map of Mexico with Topographic Information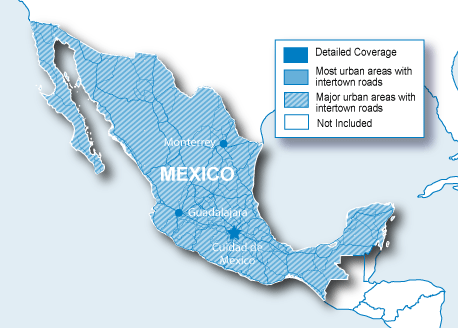 A downloadable GPS map from Bicimapas, the Mexico GPS Atlas provides cities and roads as well as topographic information in the form of contour lines. Excellent for adventurous recreational use, it includes off-road tracks and trails in some areas (such as Baja).
It includes a database of over 280,000 towns and rural locations, points of interest and over 1500 PEMEX gas stations. Recently updated to version 2 (January 2008) and compatible with most Garmin receivers. Please note: The search capability of this data varies with the model of receiver.
180MB download (broadband recommended). Requires MapSource software to install to an SD/microSD card for your Garmin GPS receiver. The Mexico GPS Atlas V2 has city mapping for 68 cities in Mexico with street search and routing capabilities.
It is advisable to carry good paper maps with you as a backup.
Mexico Maps provides all types of maps of Mexico including folded maps, atlases, paper topographic maps and GPS maps. For corporate, research and development, school and library needs we also provide digital geo-referenced topographic maps (DRGs), vector data sets, orthophotos and custom GPS maps.
For further information:
mwalker@mexicomaps.com
http://www.mexicomaps.com
Also by Mark Walker: GPS Receivers for Mexico