San Blas, Nayarit: Websites, Information & Accomodations

San Blas resident Tom Nelson suggests a new website and Carl adds a link to Tom's own Bungalows Conny.



Cabeza Palapa by "jgentry"



E-mail this page
Printer-friendly page

By Tom Nelson
Posted Saturday, July 26, 2003
Carl & Lorena
On your website listings under Pacific Coast check out:
San Blas, Nayarit Mexico at http://www.sanblasmexico.com.
Chris and Alma Rita have put together a nice site.

Tom Nelson
http://www.bungalowsconny.com
Bungalows Conny
Carl adds:
Thanks for the tip, Tom -- I agree, they've done a very nice job with their San Blas site. I especially like the photographs of the Tovara Lagoon and the crocodiles. I'll remind our readers to keep their dogs and bite-sized children on a tight leash. That beast has a serious smile and some impressive dental work.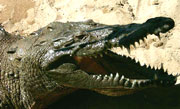 I should also mention that the San Blas website is in both Spanish and English. To get started, try the link, English For Traveler. You can also translate pages from Spanish by using Google's online translator here:
http://www.google.com/language_tools
Lorena and I are quite pleased to see that San Blas is coming back strong from last year's hurricane. With any luck, we'll drop by for a visit later this year.
You were quite modest in not mentioning your own website and Bungalows Conny. Don't be shy -- I'm sure that many of our readers would appreciate some comfort after a hard day of birding and beachcombing.
saludos,
Carl
P.S. The photo seen here of the Cabeza Palapa was posted on the San Blas website by "jgentry".
Chris has also given permission to post his email address here, so if you've got questions about San Blas that aren't answered on their website, you might drop him a line chris@sanblasmexico.com

---
P.S. Click on the burro to return to the People' Guide To Mexico main page