Published September 2001
Hello Carl & Lorena,

Hope you guys are doing fine. We met you on the beach, many years ago.

We have a question for Lorena's brother Doug, if you could please pass it on. We have not been able to get to Mexico for 5 years now. This Dec. & Jan. we expect to travel there once again. Our destination will be Baja, where we have spent many years in the past traveling and hanging out. But have not been back to Baja for 14 years.

We wanted to know if Doug knows the road south of San Felipe, that connects back into the main highway north of the Bay of Los Angeles cut-off. In our 12 years of traveling and living in Baja, we never made it to San Felipe and down the peninsula to the midriff that way. We lived stateside in San Diego at that time, so we avoided San Felipe like the plague.

Our information on that road is over 15 years old and at that time it wasn't too good. Our new Baja maps show improvements. We will be traveling in an older Dodge van loaded with kayaks and gear.

Coming from the Southeast we would sure appreciate a road report including conditions, gas, water, points of interest and/or potential hazards, etc. Information on Baja and highway conditions is hard to come by in our neck of the woods. We are just hoping Doug has traveled that route recently and would help us out. We want to start our trip with an adventure not a nightmare.

This email will not make money for you and we know what a pain in the ass answering a lot of questions can be. We try to support your enterprises when we can. We bought a new Peoples Guide last Jan. that makes our 3rd one. Our original tattered and well worn 74 edition has been retired to a place of honor among our books, it was signed by Steve.

Thanks Guys, hope to meet up with you again someday.

Steve & Jo Knight


Doug replies:

The road south from San Felipe is not in good shape now, but is certainly passable in a loaded van if you drive slowly. The road is paved from San Felipe to Puertecitos, but was badly damaged several years ago during some fierce storms. It hasn't been completely repaved since then.

The road from Puertecitos to Bahia Gonzaga is still unpaved. The condition depends on the length of time since the last grader and road crew went through. Again, if you take it slowly, you won't have any trouble getting through. Unless you follow a big storm, you won't need 4-wheel drive or high clearance. One danger is getting to a fairly smooth stretch, then speeding up because you are tired of the slow pace... and then suddenly coming upon a rough spot or big holes.

Gas is available in San Felipe. There is even a self-serve station at the entrance to town. Puertecitos sometimes has gas, but it isn't reliable at present. There is a station in Bahia Gonzaga and they generally have gas. You may find someone selling gas from drums at a couple of small store/restaurants between Gonzaga and Hwy 1. The next gas you can count on is in Bahia de Los Angeles or Jesus Maria if you stay on Hwy 1 after coming out of Gonzaga.

I would plan on taking all the water that you will need from San Felipe to Gonzaga or beyond. You will be able to buy safe bottled water in San Felipe. Water and limited supplies are available at a small store about 25 miles south of San Felipe, and in Gonzaga. You will be able to buy "unlimited" quantities of purified water in Bahia de Los Angeles or Guerrero Negro.


Palapa at Camp Gecko
If you are headed to Bahia de Los Angeles, you will be shocked at the growth in 14 years. However, it is still a delightful spot and my favorite place in Baja. If you want a campground with hot showers, cabanas and security, I suggest Camp Gecko, south of town. It is run by Doc Abraham Vasquez and is the nicest campground in the bay. Here is the email for Camp Gecko: <gecko@starband.net>. You can go to their web site for more information. <http://www.campgecko.com/> I think this is a great place if you want a little more than open beach camping.

If you want solitude, you will probably head north of town toward La Gringa, where there are no facilities. Someone may collect 3-5 dollars for camping at the water's edge.

Doc Abraham at Camp Gecko can arrange fishing, diving, whale watching, etc., if your arms get tired from kayaking. If you camp up at La Gringa, and want to hire a panga, I suggest Reuben Dagget at Dagget's Campground. You will pass Dagget's Campground on the dirt road to La Gringa.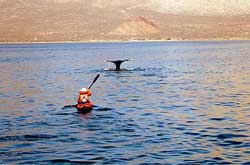 If you have kayaked Bahia de Los Angeles before, almost everyplace you went away from town is like it was 14 years ago.

San Felipe is still a great place to avoid, but has the convenience of gas, food and some cheap restaurants. There are several campgrounds north and south of town with varying degrees of facilities and solitude. I prefer south because fewer people go beyond San Felipe, especially if they are there for the party atmosphere.

Puertecitos has some hot springs/tide pools that may interest you. A few miles south of Puertecitos is Playa La Costilla with a rock reef if you want some fishing and mediocre diving. Farther south are some small islands close enough to shore to paddle to and around. They are worth exploring if you want to see something new.

I hope to get to La Costilla in the next month or so, and will give you a report (assuming I lose my senses and come back to California).

I know you asked for a road report and you may know most of the rest of this message, so forgive me if I sound like the Chamber of Commerce. Here are a couple of message sites with current Baja news.

Baja Califoria Message Board: <http://math.ucr.edu/ftm/bajaPages/MsgBoard/MsgBoard.html>
Amigos de Baja's General Baja Discussion Center: <http://www.bajanet.com/general/>

If you search the net, you will probably find sites for many of the places that you might want to visit. If you follow these boards, you will get a lot of information and contacts. Remember, everybody who goes to Baja is happy to help anybody else, "Unless you are planning to build a resort within 100 miles of my favorite beach".

If you have more questions, let me know.

Doug