Suggested Itinerary

Dear Carl and Lorena,
I will be taking a 3 week trip to Belize and Northern Guatemala (entering and leaving from Cancun to get the cheap flight) over the Christmas break. Very low budget (by choice, we like it that way), travelling by bus mostly. My travel partner is a birder. We will be traveling with a loose itinerary. Would you have a couple of suggestions on either hotels or sights?
Lorena and I are also birders and we've travelled extensively (and cheaply) in the Ruta Maya area. Start by taking a bus or colectivo cab from the Cancun airport to the bus station. From there, consider a direct bus to Chetumal (if you want to bypass the more crowded Mexican Caribbean coast).
If you have time and the inclination, however, bus to Tulum and from there to Coba, one of the best birding spots on the Peninsula. I birded in Coba with researchers from the Smithsonian — they considered it very good.
In Coba, ask the driver to let you off in front of El Bocadito, a hotel/restaurant on the right hand side as you enter the (very small) village. The owner, Francisco Itza, is a good friend — be sure to tell him I send "Saludos". The Bocadito is the best cheap hotel in the area, and has the tastiest food.
For birding, go into the Archeological Park as early as possible. As a rule, the birding is best if you're actually in the jungle at, or even before, dawn. There are side trails into the Park that bypass the main entrance, but the guards get quite irritated if they find you inside before official entry hours. (For very early birding we sometimes walk the highway back toward Tulum.)
Be careful; it is easy to get disoriented if you leave major paths or roads. I have explored this area extensively — and I've been lost many times. Snakes aren't a major hazard in winter, but use caution: Snakes are relatively plentiful and some are very poisonous. When it is damp or rains, be much more careful. Snakes come out in wet weather — but the rain also brings out birds, especially toucans.
Birding around the Coba's small lakes is very interesting, even near the shoreline areas that see a fair amount of human traffic. Watch, too, for crocodiles — there were a couple of hefty 4-footers the last time I was there. Sadly, poachers often kill the crocs when they grow to any size.
Inside the Park, go through the main gate and take the first trail to your right. It leads to another lake. Climb the low ruins that slope down to the shore. This vantage point is excellent for birds, which seem to concentrate here early and late in the day.
Now retrace your steps, to the entrance path. Continue along the trails that crisscross the central area of this heavily-forested 'eco-archeological' park. The main path is Lorena's favorite birdwatching route. However, all of the broad trails in the Park are good for birding and (rarely) small animals and snakes.
Sian Ka'an Reserve, about 15 miles south of Tulum, is famous but difficult to explore — there isn't much access and the area is very wet and densely forested. I'd skip it unless you get better local info or have plenty of time to poke around. You could write to Amigos de Sian Ka'an, Apdo Postal 770, Cancun 77500, Quintana Roo, Mexico.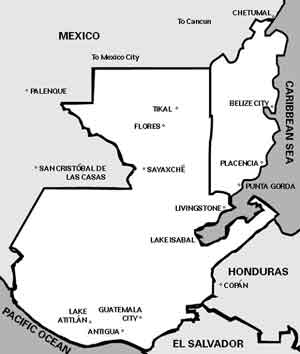 From Chetumal take a bus directly into Belize (or even all the way to Belize City). You might get off along the way at the Crooked Tree Bird Sanctuary, though you'll probably have to hoof in from the highway. (I think it was 3 or 4 miles to the village.) We camped in the village, in someone's backyard. Guided boat trips to see waterfowl (including jabiru) are available but not cheap. (Check the book, Belize, A Natural Destination, John Muir Publications for details.)
The Cockscomb Jaguar Reserve was a high point of a birding trip I did a few years back. The bugs were ferocious there but it was worth it. I didn't see a jaguar but I did step in genuine, steaming jaguar scat. Be prepared to camp — and take food and iodine for purifying the local water. A no-see'um proof tent is a must. Watch for snakes — I saw a very large, very dangerous fer de lance there.
Placencia, at the end of a low sandy peninsula, across from Big Creek, is a friendly, picturesque, low-key resort village. At the southwest tip of the peninsula, Eiley's Vacation Paradise Hotel has reasonable rates, a fine view and a friendly atmosphere. Stop by Brenda's on the beach trail to the village for a wonderful Creole meal. If you feel like a splurge, the Turtle Inn, (1 mile to the north) is on Placencia's prettiest beach. Their food is good and the Inn offers diving and fishing trips, and jungle camping expeditions.
My next choice is to continue south to Punta Gorda. Go to Chet's Place (Box 75, the original eco-hostel, often full) and ask him for tips on birding. Chet can arrange village stays and contacts with other interesting people throughout the area. Punta Gorda is the end of the world — and therefore offers lots of possibilities.
From 'PG' take a local cargo launch into Guatemala, directly to Livingston. Try to stay at the Posada Rosada — again, the owner, Jean Swanson, is a friend. She can connect you to a great young Kekchi Mayan guide named Victor — he lives next door. Victor took Lorena and I on a fantastic 8 day dugout canoe trip. Talk about birds!
Ask Victor to take you up the Rio Dulce. Leave very early and explore the creeks he recommends. This trip will cost you perhaps $50 or even $100, but it'll be worth it; Victor is a very good guide with excellent equipment. The 'photo ops' are boggling but most guides race through at high speed. You can stop for lunch at a wonderful lakeside place, then continue on to the bridge at Lake Izabal.
Near the highway, I recommend that you stay at Hacienda Tijax — Victor knows it; we stayed there with him. This is a relatively new eco-lodge, with birding trails and wonderful thatched houses. The birding from the porches and bedrooms is excellent. Several months ago the cost was $10 a night per person, meals extra. When you're ready to leave, they'll ferry you over to the village.
For an ambitious side trip, have Victor take you into Lake Isabal to visit Finca El Paraiso. As easy half-hour walk from the beach leads to an amazing hot waterfall. There are cabins along the lake shore, built from hardwoods that were cut and milled on the finca. (About $10 a night per person.) Home style meals are available and most of the food is grown on the finca. When you can tear yourself away, return to the settlement near the highway bridge.
To visit the Guatemalan highlands, catch a minibus (leaves just before the hour) to the Puerto Barrios/Guatemala City highway. (The 9 a.m. mini bus will connect you to the 10 a.m. first class Litegua bus to Guatemala City.
Or, if you'd rather, take a bus from the bridge deep into El Peten, to Tikal. This is a long, uncomfortable trip but worth it, because you'll stop for a well-deserved rest at Finca Ixobel, near Poptun. This eco-camp/lodge is famous for its inexpensive lodging, fine food, friendly atmosphere and interesting surroundings. Lots of birds and side trips — I've met travellers who dropped by for a night and stayed weeks or even months.

Continue on to Flores. Most travellers bypass the town (on an island) but we really enjoy it. There are good cheap hotels and food, and some great photos.
You can also camp in Tikal (a few bucks a night). Good Mayan fare is available at the comedor on your right just as you enter the park, El Imperio Maya. Go early and watch the tall trees across the road for parrots and toucans. The campground also offers good birding — but the entire Tikal Park is a paradise. We've seen a tremendous resurgence of birds and wildlife here since the 70's. (Go to the Lost World temple complex very early in the day and again for sunset — many birds and animals.
In the early a.m. walk the forest trails to the left side of the park, watching carefully for deer, pigs, fox, tepesquintle and other critters. Tikal is huge and there are lots of trails — but again, be a bit cautious; I've been lost here for several hours at a stretch.
Don't be misled by Tikal's designation as a 'park'. This is also a tropical forest and near-wilderness. Carry two quarts of water, food, bug dope, a flashlight, matches, compass and a whistle. It also gets surprisingly chilly at night — damp and foggy, too. Be prepared for cold rain.
If you have time, make a side trip from Flores to Sayaxché. There are cheap hotels and food in this small town, and access to many fine river trips, archaeological sites, birding — you name it. Talk to local people about hiring boats or hitching on cayucos (huge dugout canoes and launches). Sayaxché is at the heart of the "Maya Mississippi". I think you'll find it a friendly, funky place.
From Flores, you might fly to Guatemala City and from there travel into the highlands. Or, ride the teeth-rattling bus to Melchor de Mencos, cross into Belize, then take a short cab ride to Cayo (San Ignacio). (Better yet, in Flores, find a few companions and share-hire a van for this trip. The price is reasonable.) You'll hear stories about bandits on this road, but they aren't common.
Another choice: We've heard that there's an express bus from Flores to Cancun. I don't have any details, however, so let me know what you learn.