Where's The People's Guide Travel Letter?

Now that you mention it.... whatever happened to the newsletter?
Posted Tuesday, October 12, 2004
This email just came in: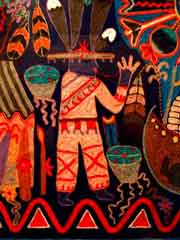 Hello,
Please let me know when you get this (People's Guide Newsletter) going again.
Thanks!
Lloyd
Lorena and I had to suspend publication of the People's Guide To Mexico Travel Letter several years ago. The newsletter was quite popular with those people who came across it, but thanks to the high cost of production, printing, and postage we really had no choice to shut it down. Even with paid subscriptions and (a small amount of) advertising, we lost money on every issue and couldn't afford it any longer.
Fortunately, it wasn't long after closing the newsletter that we began to publish this website. In fact, the website offers far more variety of content than was ever possible with the print newsletter, as well as photographs, color artwork, quick updates (don't groan; we try our best!), and other enhancements.
So, to answer your question another way, Lloyd: these very pages are the new! improved! and expanded! People's Guide To Mexico newsletter, reincarnated as a website.
We hope that it works for you.
all the best,
Carl and Lorena
P.S. Click on the burro to return to the People' Guide To Mexico front page:

---