Car Insurance - YES!

Why bother?
Posted Tuesday, October 12, 2004
Hi folks.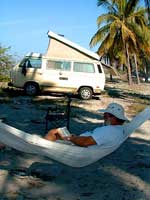 Just finished reading your page of letters and found them very interesting. We live in Puerto Escondido for the winter months and have made one trip to Guatemala with no auto insurance. We would like to return again this year but with insurance. Can you provide some info as where to buy some. Thanking you in advance, Bryan S.
Carl answers: Back in the "good old days", when we thought we were immortal and immune to injury, Lorena and I often made long van trips south of the border, without insurance. We outgrew that, thanks in large part to the experience of a friend who was tossed into a cell after having a wreck. Roy swerved to miss a coconut and drove his Land Rover off a cliff in the middle of nowhere. To add insult (and additional pain) to his injuries, the local policia threw him into the lockup. Roy was over seventy years old and didn't enjoy sleeping on a cement floor for the week or two it took us to spring him.
The moral of this story: I immediately bought car insurance, and continue to do so.
Buying insurance for travel in Mexico and Guatemala is very easy these days. In fact, all you have to do is click this insurance link, and you'll be whisked to a page featuring our insurance advertisers. We've personally used most of these companies -- you shouldn't have any problems getting a quick response and a fair deal from them.
If you don't mind, please mention The People's Guide To Mexico when you buy a policy from one of our advertisers. Their ads go a long way toward paying our internet fees and help guarantee this website's survival!

---