The Copper Canyon Train & Fares

A description of the Copper Canyon train, considered by many to be one of the world's premier train routes. Includes fare information and suggestions for getting the best views.
By Carl Franz
Posted Monday, September 17, 2001
| | |
| --- | --- |
| | I recommend riding from the west (Los Mochis) towards the east (Creel and Chihuahua City). This takes advantage of daylight hours and provides the best views. |
For most people, the Copper Canyon is synonymous with the Copper Canyon Express . If you take the train, I recommend riding from the west (Los Mochis) towards the east (Creel and Chihuahua City). This takes advantage of daylight hours and provides the best views. If you are pressed for time, however, you may find it more convenient to make train connections via Chihuahua City.
Service and comfort are much improved on the famous Copper Canyon train from Chihuahua City to Los Mochis (on the Pacific coast). Along with these improvements, however, we also have much higher ticket prices.
People I spoke to in Chihuahua said the increase in fares hadn't noticeably affected the numbers of tourists traveling by train, but it definitely clobbered the locals. Anyone who lives in one of the small, remote canyon communities along "la via" (the rail line), depends on the second-class "Economica" train to get basic supplies, and to travel in and out of the sierra. Higher fares represent a serious financial burden for these people.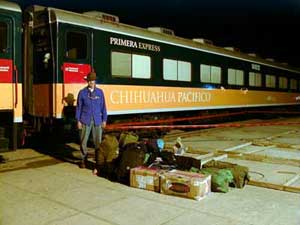 The first class train leaves from either Los Mochis or Chihuahua at 6 am
As of March, 2001, these are the one-way fares in Mexican pesos from Creel on El Chepe , the daily Copper Canyon train.
Heading east from Creel by Primera Express to Cuauhtemoc:228.10
From Creel to Chihuahua City: 463.90
From Creel on Clase Economica to Cuauhtemoc: 125.95
From Creel to Chihuahua City 228.10
Heading west from Creel to Los Mochis by Primera Express to:
Divisadero: 187.45
Posada Barrancas: 187.45
San Rafael: 187.45
Bahuichivo: 187.45 (Get off here for Cerocahui and Urique)
Temoris: 224.95
El Fuerte: 429.55
Los Mochis: 557.65
Heading West from Creel to Los Mochis by Clase Economica to:
Divisadero: 92.15
Posada Barrancas: 92.15
San Rafael: 92.15
Bahuichivo: 92.15
Temoris: 110.60
El Fuerte: 211.20
Los Mochis: 274.15

Do a little math and you'll see that the cost of a first class ticket for the entire trip, one-way, is currently about U.S. $111 (peso exchange at 9.2). Figure $55 for an "economy" ticket.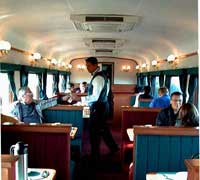 The Clase Economica train is the former First Class train, replaced when the company went private. In addition to the points above, the Economica train also stops in La Junta and San Juanito when headed eastward, and in Cuiteco, Loreto, and Sufragio when going to the west.
There is a good dining car on the Primera Express, but it isn't cheap, so budget travelers will want to take a picnic. The conductors discourage eating in the passenger cars, however, so be discreet. You can buy good, inexpensive burritos and quesadillas at the train stops, and eat them with a jacket draped over your head, or better yet, take your lunch outside, between the cars, in one of the vestibules.
When Doug Havens and I boarded the Primera Express with enough groceries for a major canyon hike for over 20 people, the conductors were less than welcoming. One of them kept repeating, over and over, "You can't eat that bread on the train!" Our mountain of luggage included 4 enormous boxes of bread loaves, bread rolls, bagels, and tortillas, which he obviously assumed we would try to chow down on aboard the train.
In the unlikely event of a train robbery, be calm, quiet and cooperative. In other words, don't argue; just hand over the loot.
---