Mexico's Copper Canyon: Updates, Tips, Letters
• Is there a back road to Alamos?"
• "Yes, I did the back road to Alamos"
• Doug Rhodes' Copper Canyon Road Logs
• Motos in the Copper Canyon
• Copper Canyon at Xmas
• Rancho San Lorenzo
• Driving in the Sierra Madre
• Solitude while hiking?
By Carl Franz
Posted Monday, December 20, 2004
COPPER CANYON BACK ROAD TO ALAMOS ?
Hi I'm leaving tomorrow, heading off on a long awaited adventure, and part of it will hopefully be to cross from Creel to Alamos or vice versa by road. I've read of about three people who have done it, and very little else. I've been in the Copper canyon area once before, a few days in Creel a few years ago, but this will be my first trip by car. Don't know if I can really pull it off. I've got an old Toyota Landcruiser, a girlfriend , and a dog. Is there any information that you would want if I can pull off the trip? I've memorized your book, and have spent about a year in total in old Vw busses stumbling around Mexico, so I think I've got the foundations. My plan is to check out each section of the road with the locals first, if possible before crossing, as I understand this is a big pot growing area that may have some banditry, and will be going with my eyes open. Been through Chiapas in 1995 or so, so it may be a bit like that.
Anyway, if there is any specific information or feedback you would like, i can be reached at rainbear@shadango.com.
Jonathon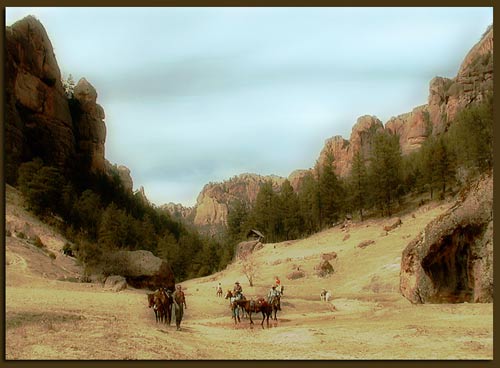 Carl's reply: Oh boy, another opportunity missed! Yeah, Jonathan, there's a lot of info you could gather for us... but, by the time I got your email I'm afraid you were already on the road and beyond the reach of my reply. When you return, however, we'd love to hear about your trip, especially any details you'd like to pass on to others. As you can see from the email that follows, we finally got something solid on this route from "C Coons". We're hoping he'll favor us with a copy of his GPS track and perhaps fill us on further details, too.
Don't forget to write!
================
I DID THE BACK ROAD TO ALAMOS
from "C Coons": I saw the October question about this route.
Last year we made this ride on motorcycles. I have a VERY detailed GPS track saved that shows ONE of the ways to do it.
We found the following in the spring of 2004. Parts of the road from Alamos to Chinipas are pretty rough and those with no dirt road skills will want to go slowly. Some will turn around and go back to Alamos. We made it from Alamos to Temoris in about 7 hours. There is a long river crossing at Chinipas with a relatively fast current. From Chinipas on it is mostly just a gravel road, not particularly difficult. I think we were in Creel before noon the second day. Aggressive riders could easily make the trip in a day, but they wouldn't see much.
Some reasonably accurate route info is available buried deep in the mexicohorse website. A trip report of a MC trip which includes this route is at http://www.bigdogadventures.com/default.htm
A google search will provide more info on this route.
Carl: The "mexicohorse" site mentioned above is Doug Rhodes' Paraiso Del Oso lodge in Cerocahui http:www.mexicohorse.com . Doug has a very interesting website -- and his lodge is well worth considering, too. I stayed there several years ago and had a great time, even though Doug nearly killed me on an impromptu horse jaunt. But, as usual that's another story....
We can thank C Coons for telling us about Doug's backcountry road logs. These and others on his site should prove very helpful:
Temoris to Chinipas: http://www.mexicohorse.com/Road%20Log_Temoris%20to%20Chinipas.htm
Alamos to El Fuerte: http://www.mexicohorse.com/Road%20Log_Alamos%20to%20El%20Fuerte.htm
El Fuerte to Reforma: http://www.mexicohorse.com/Road%20Log_El%20Fuerte%20to%20La%20Reforma.htm
La Reforma to Cerocahui: http://www.mexicohorse.com/Road%20Log_La%20Reforma%20to%20Cerocahui.htm
Bocoyna to Sisoguichi: http://www.mexicohorse.com/Road%20Log_Bocoyna%20to%20Sisoguichi.htm
I also visited the link mentioned above to Mark Sampson's "Big Dog Adventures". He's definitely been over the ground. However, I can't really recommend casual travel into some of the areas he describes, which are notorious for drug cultivation. Mark is obviously an adventurous guy but his flippant descriptions of encounters with gun toting soldiers and locals could lead others into serious trouble. If you go, be very careful. In particular, I strongly recommend that you don't booze it up with any "narcos" you might meet, however friendly they may be. This region is plagued with drug and alcohol related violence. Fortunately violence is rarely inflicted on tourists, but then again, very few tourists penetrate this far into the canyons! Be cautious!
===================
MOTOS IN THE COPPER CANYON

Hello, we are very interested in copper canyon and the area around it, there will be 3 of us, all riding motos, we would like to ride the train, can we get the bikes on the train? They are smaller duel sport bikes, less then 500 pounds. we will be trailing the bikes from Springfield Ill.
We need a place to store our truck and trailer in the US, I kinda like the idea of starting the trip from the West and going east, for the train ride. We will have about 2 weeks in Mexico, could you suggest a cool way to spend the two weeks riding in the area?
we have been in Mexico before and have the border crossings down pretty good, matter of fact we have rode all the way to Costa Rica and back, Going In at Motemores (Matamoros), we are more familiar with the eastern and southern part of Mexico, we also have traveled by boat, Yucatan Express-great way to travel, to bad it is not running, have you herd of anything like it.
We are coming from the North, Cleveland Oh. we do not want to get to cold! I know the mountains can get cold, not a problem we have gear for that, we just do not want a steady diet of cold, we have that up here already, any help would be greatly appreciated.
Thanks, Bill M
Carl's reply: Well, to start off with, I don't know if you'll get cold because you don't tell me when you'll do the trip. If in winter then, yes, you will probably get cold. The Sierra Madre can be quite chilly in winter and even into late spring. Snow is possible at lower elevations in the northern part of Chihuahua from December to March and probable at higher elevations, though it doesn't snow often (usually).
Can you put your bikes on the train? Yes, though I'd suggest you get to the train station a day ahead of time and make the necessary arrangements rather than waiting for the last minute. I don't have any details on this but the trains carry a lot of freight so I assume your bikes can be loaded, too.
Where to ride for two weeks? Phew... that is a big question, too big, in fact, for an off-the-top-of-my-head reply. How far do you want to ride? What are your interests? I can't answer questions like these without some kind of idea of what you'd like out of a trip. Better buy a guidebook!

COPPER CANYON AT XMAS
Richard L writes:
Hi Carl and Lorena, Stumbled across your site while researching possibilities for a very last minute trip to the Copper Canyon. First of all, is it very busy around that time and would it be hard to find hotel rooms. Not entirely sure of my route, but was thinking of travelling the length of the railway, probably from Chihuahua to Los Mochis then over to La Paz and back to San Diego which is where I live (and would be starting from). My other query is whether everthing will be open at Christmas...not sure whether everyone shuts down or not as it's a big holiday. I have about 9 days to do the trip...not a whole lot of time but I think that it should be enough. I've travelled a lot in Asia and India so I'm pretty used to roughing it...not in need of 5 star hotels and the like by any means. Many thanks and keep up the good work on the site. It's great.
Carl's reply: I hate to grump, Richard, especially after all of the nice things you've said about our website, but these "last minute" questions are very frustrating. At least you didn't wait until the day before leaving (see Jonathan's "last minute" request above) but as we keep reminding people, Lorena and I are having a hard time answering so many emails. Next time, please! don't wait so long, ok?
On to your questions... sorry, but you probably will have a hard time finding hotel rooms -- Xmas is a major travel holiday for Mexicans and foreigners, so rooms can be quite scarce. If you find yourself in a bind, look for rooms in small family-run cabins. It won't be fancy. In fact, it might not even be comfortable but even a cot in someone's attic beats sitting on a bench all night.
Will things be open at Christmas? Probably, and then again, maybe not. It all depends... the more tourists there are roaming around looking for something to do or eat, the more likely that business owners will stay open. On the other hand, this is Mexico, where family and friends always come first, even at the expense of profits. In general I've found Xmas to be less than exciting in terms of entertainment, etc. Good luck!
==============
Rancho San Lorenzo, Basaseachic
Senor
I read in "People's Guide" that San Lorenzo is an excellent place to visit. We are heading from Hermosillo to Creel sometime between Dec. 13 and the 24th. Then we will be returning and looking for lodging on Monday, December 27. We are a family of six: two adults and four children, ages 5, 7, 8 and 10. We would be glad for a room with two or three beds. Do you have any recommendations for us?
Also, we have heard that there are many dangers in traveling some roads in Mexico. This will be our first visit, so we are eager for to learn and do the right thing. What advice can you give to us about being safe on the roads?
Thank you! Atentamente,
Jim

Carl Replies:
We have forwarded your question about accommodations to Fernando Dominguez at Rancho San Lorenzo. (lobo_waterfallsadventure@yahoo.com.mx)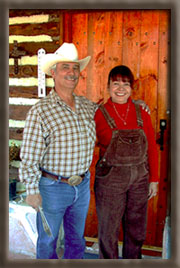 I'll answer your question about driving by urging you to read the extensive, hard-earned information on driving in Mexico in our book, The People's Guide To Mexico. It all applies to northern Mexico.
Also, you never know about the weather, especially in the Sierra Madre in winter. Snow is not out of the question, though it usually doesn't last more than a day or two. Traffic tends to be light in the Sierra but it is also "open range", so watch for livestock and... Very important... don't drive at night if you can possibly avoid it.
If you are contemplating a budget vacation in the Copper Canyon, read The Copper Canyon: Cheap & Easy.
Solitude While Hiking?
My girlfriend and I are planning a trip to go hiking for four to six days. We plan to leave Austin, Texas (where we currently live) on Dec. 23rd or 24th and to return on January 1st or 2nd.
I am looking for a place where we can go hiking and have a good amount of privacy. It needs to be within a two-day drive, bus and/or train ride. We have three-season equipment and clothing so we have limited choices.
I had considered Copper Canyon as the best choice until I read in numerous places that the native people of the area (the Tarahumaras) live among the mountains and that privacy may be difficult to have. I have read that villages or ranches occupy every flat place in the area, but it is difficult to know if that is an exaggeration. I don't mind seeing natives or gringos here and there while we hike (perhaps several per day on the trail), but I also hope that we can have a day or two of complete solitude. Do you know of any options in Copper Canyon or nearby where such a trip can be made? Is this possible in the Copper Canyon area? If it is possible, would local guides have suggestions?
Other possibilities:
El Cielo in Tamaulipas (similar issues to Copper Canyon?)
Big Bend in Texas (I have been three times and would like to be somewhere new.)
Gila Wilderness in New Mexico (probably too cold this time of year)
North Padre Island in Texas (we could hike south along the beach and then north along the beach)
Central Texas is a dry spot for large, public wild areas.
Thank you for your time,
Tom W
Carl replies: You can find solitude in Mexico but it isn't necessarily easy. The Copper Canyon has many remote and virtually uninhabited areas, but getting to them can be a challenge without a guide -- and with a guide you won't really have the privacy you desire. As for the Tarahumara, they tend to live in widely separated ranches, often more than a mile or two apart. Also, unlike the Indians in other parts of Mexico, the Tarahumara are quite reclusive and do not generally visit strangers, especially "chabochis" (non-Tarahumara).
The problem with the canyons right now, however, is really the weather. It has been snowing recently in the high Sierra, so I don't think you've got the gear for that. To top it off, Xmas is the big winter travel holiday in Mexico, so everything will be busy and crowded.
All things considered, I vote for Padre Island!

---