Copper Canyon Bus Schedules & Travel Tips

It may not be sexy but this is vital info for anyone who travels by bus in Mexico's Copper Canyon or Sierra Madre.



E-mail this page
Printer-friendly page

By Carl Franz
Posted Sunday, September 30, 2001
The information below is very important for anyone planning an overland trip to and from Creel, which is fast becoming the epicenter of Copper Canyon tourism. Unlike central and southern Mexico, buses don't run as frequently in the Sierra, so having a reasonably accurate schedule can be very important.
Keep in mind that bus schedules change without notice. If you find changes or errors, or would like to help us expand this information to include other important towns and intersections, please email us. ca rl-lorena@peoplesguide.com

Buses to Basaseachic Waterfall
You'll be hearing a lot more from me about the Baseaseachic region (a spectacular waterfall!), and its tremendous potential for tourism and hiking. But, with just three Estrella Blanca buses a day to Basaseachic from Ciudad Cuauhtemoc, getting there isn't yet easy. (These buses depart Ciudad Cuauhtemoc at 08:00, 13:00, and 17:00.)
If you're trying to get to Basaseachic from Creel, you'll have to take the Creel-to-Cuauhtemoc bus, and then get off at the San Pedro intersection, where you'll catch the next bus from Cuidad Cuauhtemoc to Basaseachic .

Sounds simple, but there's a wrinkle: you've got to time your arrival at the San Pedro intersection to coincide with one of the three buses that runs from Ciudad Cuauhtemoc to Basaseachic.
The San Pedro "T" intersection is 92 km/57 miles from Creel at the junction of the highway from Cuauhtemoc to Basaseachic . There's nothing but a small cafe at this rather barren intersection, so be prepared. This is Mexico, not Switzerland. Mexican buses aren't always late, however. In fact, sometimes they're even early. In this case, if the last Cuauhtemoc bus reaches San Pedro a few minutes early, and the Creel bus is late, you'll be out of luck until the next morning. The San Pedro intersection is not a good place to camp, so you'll have to continue on to Cuauhtemoc for the night, or catch a bus back to San Juanito in order to find a place to stay.
Buses from Creel headed for Chihuahua or Cuauhtemoc will reach San Pedro about 2 hours after leaving Creel . Estrella Blanca has departures from Creel to Chihuahua throughout the day. It is important to keep in mind, however, that in order to connect with a Basaseachic-bound bus from Cuauhtemoc at the San Pedro intersection, you'll need to take a bus that departs at least two hours earlier from Creel.
That means you'll need to take one of these Creel departures (approximate arrival times at San Pedro are in parenthesis): 07:00 am (09:00), 10:30 (12:30 pm), 12:00 (14:00/2 pm), 14:00 (16:00/4 pm), 15:15 (17:15/5:15 pm).
(Complete bus schedules for Creel to Chihuahua are listed below)
The bus from Cuauhtemoc to Basaseachic stops very briefly at San Pedro at the approximate times listed here, depending on traffic, passenger load, weather, etc.: between 09:00 - 10:00 am; 14:00 (2 p.m.); and 18:00 (6 p.m.)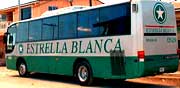 Full Estrella Blanca schedule, Creel to Chihuahua City

Estrella Blanca, Creel to Chihuahua departures :
07:00, 10:30, 12:00, 14:00, 15:15, 16:15, 17:30
There are also three, non-stop, ' Directo' departures from Creel to Chihuahua : 10:30, 14:00, 17:30
Fares from Creel: to Chihuahua City (150p), to Cuauhtemoc (98p), to La Junta (70p), to San Juanito (23p), to Bocoyna (13p).
Estrella Blanca also offers a direct bus from Creel to Ciudad Juarez at 08:15 for 358 pesos.

Creel to San Rafael
If you're traveling deeper into the Sierra, from Creel to Divisadero, Areponapuchic, and San Rafael (points along the Urique Canyon), there are these buses:
Estrella Blanca, Creel to San Rafael departures (via Divisadero, 36 pesos, spring 2001):
depart Creel: 06:45, returns to Creel: 08:30; departs 12:00, returns 15:30

San Rafael to Creel and Chihuahua
Estrella Blanca, San Rafael to Chihuahua departures (via Creel): 07:00; 08:30; 12:30; 15:30

Buses from Creel to Guachochi (43 p) and Parral (89 p) depart at 12:00 and 17:30.

Noroeste buses
This is a relatively new bus line in the Sierra. They don't have many departures but their buses are comfortable and service is good.
Noroeste departs from San Rafael to Chihuahua at 07:30 and 14:00. The 7:30 a.m. bus arrives at the "entronque" (intersection) near Divisadero at about 08:00, but if you're picking up the bus at the intersection, be there early, just in case. Buses to and from San Rafael also pause at the intersection on the edge of Areponapuchic. The distance between these two intersections is just four or five miles, so plan accordingly.
From Creel, the Noroeste bus departs for Chihuahua at 09:00 and 15:30. There's a bus to San Rafael at 10:30 and 18:15 . On Friday, Saturday, Sunday and Monday there's an additional departure at 13:30. Unfortunately they don't specify whether this bus goes to Chihuahua or San Rafael, but I'll get this info on my next trip....
Their telephone number is 411-57-83
The Noroeste "terminal" is a tiny building east of the train station, on the opposite side of the train tracks. It isn't much, so look carefully.
---