Best of Mexico & Central America
---


Lake Chapala Articles

Various articles on "Lakeside" -- Chapala, Ajijic, Jocotepec and other communities along Mexico's largest lake. (Please note that we no longer on Lake Chapala)
Posted Wednesday, September 29, 2004
Here's a collection of earlier articles on Lake Chapala, Ajijic and the communities generally known as "Lakeside". Please note that Lorena and I are no longer living at Lake Chapala. To find out where we've ended up, please return to the People's Guide homepage.
Lake Chapala
Ajijic, Chapala, Jocotepec

I just have to tell you....I am moving to Ajijic.... I even fell and sprained BOTH of my ankles in the middle of the main street in Chapala ....but ..... altho I quieted down for a day...I wrapped them and the next day I walked some more. I told my traveling companion later that my ankles slowing me down some were the reason the place that I found to rent happened.... (more) by Marilyn Geary-Symons

After reading your book, it is obvious that you are a true expert on expatriate living in Mexico. From that vantage point, it comes as a minor surprise that you live in Ajijic, But, I respect your perspective on living in Mexico, so my question is: In your opinion, is the Lakeside area the best locale for expatriates who are not averse to immersion in an authentic Mexican cultural experience? Carl Responds.... (more)

"Mexico's Lake Chapala and Ajijic: The Insider's Guide to the Northshore for International Travelers" is quite a mouthful, but then so is this book. With contributions from experts in anthropology, natural history, language and culture, author and Ajijic resident Teresa Kendrick presents a description of Lake Chapala and its popular tourist and retirement communities that is broad in scope yet also quite detailed.... (Full Review) by Carl Franz
Mexico's foreign retirement communities might seem an unlikely setting for a great adventure story, but in Midlife Mavericks, Ajijic author Karen Blue reminds us that courage comes in many forms. Through a highly readable series of face-to-face interviews, Blue chronicles the stories of sixteen "Indiana Joans... ordinary women who have made extraordinary choices". In fact, the adventures this book relates is just the leading edge of a growing movement: single women moving to Mexico, overcoming their fears of the unknown and discarding old beliefs in search of new dreams.... Full Review by Lorena Havens
In the last decade or so, it is estimated that more than 10,000 foreigners have purchased property on the Northshore of Lake Chapala. Long prized as a weekend retreat by wealthy Guadalajarans, the villages from Lake Chapala to Jocotepec now boast an expatriate community said to be the largest in the world. Ajijic has become the prime location for foreigners because of its infrastructure of services, such as internet access, and the existence of the Lake Chapala Society, an English-speaking resource for newcomers and residents.... (more) by Tony Harries & Teresa A. Kendrick
Lorena and I have finally returned to Mexico and are living on the shore of Lake Chapala, the country's largest lake, about 45 minutes by freeway from Guadalajara. This region has long been a magnet for gringo "snowbirds" and expatriates, and thousands of Americans and Canadians live here, either year 'round or part-time. It is easy to understand why: the quick access to Guadalajara (a city of millions), moderate elevation, near-idyllic climate, and the beautiful lake make a rather irresistable combination..... (more) by Carl Franz
The annual race of globos -- large, homemade balloons that are sent thousands of feet aloft by the hot air from flaming kerosene-soaked rags. Racing globos is a thoroughly Mexican pastime: ingenious, colorful, and highly flammable, with a strong likelihood of minor injury to bystanders.... (more) by Carl Franz
Lorena: Every Tuesday morning, I leave the house with my shopping bag and scurry down to the Lake Chapala Society to wait for Wendee & Marie to arrive with their pickup load of freshly harvested organic vegetables.... Marie and Wendee have a fascinating history and have done amazing things with their community training gardens in the Lake Chapala area. (more)
•Carl & Lorena Gone Middle Class?
I was surprised to find out you are at Lake Chapala, it always sounded so "middle-class". :-) But I since have learned you are researching material for a new book, on retiring in México. I'll be looking for it in my favorite bookstores, Amazon, on-line; B&N, on the ground. (It's the latté, man!)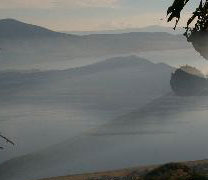 Saludos cordiales,
Mike


---Hola Mike,


Yes, we have gone hopelessly middle class here, but it's probably just a temporary condition. After pioneer living in the soggy Northwest, it is quite a novelty to have such luxuries as electricity and a real refrigerator instead of an ice chest. Guests keep reminding us to turn the lights on. Have we finally achieved the American Dream in sunny Mexico? Stay tuned....

Carl
---
P.S. Click on the burro to return to the People' Guide To Mexico main page