Carl's note: a few of months ago, Lorena and I received an email from Robert and Deborah Foster, in which Robert described their house and comfortable new life just outside of Puerto Vallarta. I know... for many People's Guide readers, the thought of living in or even near a major Mexican tourist resort is about as appealing as a condo in Disneyland. In our subsequent exchange of emails, however, I was greatly impressed by the Foster's skillful transition from Colorado to Mexico, and their choice of a deliberately modest lifestyle. I've often said that you don't have to go very far from any city or resort to find the better side of this country.
We open with Robert's introduction:
Many folks assume that budget retirement is simply not possible in commercialized resort areas such as Puerto Vallarta. That's more or less true, at least in a general sense. But, for the determined, creative and adaptable. there are ways, of course.

Two years ago, my wife Deborah and I were able to retire, leaving Boulder, Colorado and moving full time into our Mexico house.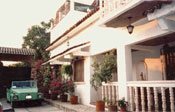 About 5 years ago, we purchased this home in a mostly working-class suburb of PV called Coapinole, above and just behind the larger suburb of Pitillal. The house is good-sized and covers about 2,000 square feet, not counting two roof top terraces and two patios.

Even though we can see all of Puerto Vallarta's luxury hotels in the distance from our roof top terrace, it is a different world out here. The neighborhood feels much like the "real" Mexico, complete with deafening dogfights seemingly every hour and non-stop rooster crowing, all of which we have actually gotten used to.

We're literally about 15 minutes by local bus from downtown PV in one direction, and the posh Marina area in the other. De vez en cuando, we like to spend a few hours hanging out in the tourist zones, just for a change of pace. It makes us appreciate all over again how much less "hype-y" and how much more affordable our little self-contained neighborhood is.

In terms of city services, we have everything offered in PV itself: cable television, a great internet ISP (Telmex), city water and sewer, etc.

Anyway, to get down to the brass tacos: We paid the equivalent of US $35,000 for this house back in April, 1995. Since then we have put an additional $15,000 or so into the house, adding the terraces and a
small third bedroom. The total to date: about $50,000.

However, I don't want your readers to conclude that they could find a similar house now for that kind of money. We should emphasize that I bought the place at the height of the '94-'95 peso crisis, and even then, I stumbled across a real bargain. To buy a house of this size and style in a neighborhood like this today, you might need anywhere from $85-120,000 US (or the peso equivalent of course). The wide range is because meaningful "comparables" are difficult to come by in Mexico. Neighborhoods and homes vary dramatically. If I wanted to sell this place fairly quickly, to a Mexican, I think the low end of the range would prevail. If I wanted to wait patiently for the right gringo buyer to come along, it might bring as much as $120,000. Hard to say.

The house is really quite spacious and nice, and even has some style. The "particulars" include 3 bedrooms, 2 1/2 baths, and a huge living area with a high vaulted ceiling. There is a faux fireplace -- kind of dopey-looking actually -- and a long interior balcony/walkway. An interior cupola covers the outer entry, yet is visible from inside. This is hard to convey, but the point is, it's not just a box.


The house is situated on a hill above the city, and both of the roof top terraces we've added offer sweeping views of the mountains and bay. It is one of a compound of three houses, all inside a lovely, high, walled-in area, with a fairly dramatic, stone entry arch and "porton." There is a large, beautifully tended garden and fountain area, and ample parking, all inside the wall.

The houses within the compound are individually deeded. The parking and garden areas are commonly held among the three homeowners. We have an informal arrangement to share the cost of a six-day- a week gardener. Our neighbors inside the wall are both Mexicans. Until recently, Deborah and I were the only gringos in this neighborhood. We have lately spotted another couple but haven't visited with them yet.

Our neighbors treat us with patience, kindness and warmth. We are no longer even a curiosity and have blended in about as well as two gringos can, I think. I speak Spanish well, which clearly is a plus trying to live in a traditional neighborhood, and we both have a genuine affection for Mexico and Mexicans. So, it's working out nicely.

We often go for a week or so without leaving the neighborhood or even firing up the old Safari. Usually, we just make a weekly run to the local Lloyds branch to grab a few pesos. Other than that, we're mostly shamelessly lazy homebodies. We spend a huge amount of time sitting on the terrace, staring at the mountains, and planning our next snack.

Anyway, we love this area for its natural beauty and wonderful accessibility. We have lots of family in the US, and there is no shortage of flights in and out of Puerto Vallarta when they want to visit. Big plus!

The bottom line? The house is paid for, of course, so we are managing on about $600 a month, total. We have learned to cook Mexican style, and only eat out about once or twice a week, and then only in local type joints.

When I said that $600 a month covers everything, I averaged in our annual fideicomiso trust fee, auto liability insurance, and property taxes. It also includes basic cable tv and unlimited internet ISP service. We do not have air conditioning. The ceiling fans do nicely.

So, that's the deal. We don't have to live so inexpensively. But, I'm a skinflint at heart, and prefer to invest our money rather than wasting it.

Can you tell us a little about yourselves, and how you came to leave Colorado?
What inspired you to move to Puerto Vallarta, rather than Orlando, Vail, or the south of France?