Published Aug 03
The Aconchi hotsprings is GREAT!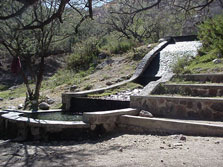 I learned of it via the Mexico West book and the Moon Northern Mexico Handbook.

It is in Northern Sonora, northeast of Hermosillo.

Every map I have gives the highway a different number... It is off of the highway that branches to the northeast off 15, just north of Hermosillo.

Continue north for 2 hours, past Ures, before you get to Arizpe (way before Cananea).



Once you are in Aconchi, there is a dirt road that is very passable. There is an old sign pointing out the dirt road, it is one block north of the sign pointing out the church on the main highway in Aconchi, closer to the north end of town.

The dirt road goes off to the west. About 4 miles down this road you get to the beautiful & well-maintained Hot Springs.

They are run by the state of Sonora now, (not by the German woman mentioned in the previous books).

I'm still exploring Sonora every chance I get, and looking forward to a two to four week trip further south before it gets too hot, San Blas or Nexpa, depending on time and money.