Spanish

Other than Donna's somewhat limited, but still effective, knowledge of Spanish, we don't have much to brag about on the language end of things. Al and I both took Spanish briefly in high school, but Bruce and Judy know none. However, I know we'll survive. We managed it before, but camping is a little different, since we won't always be in tourist areas. I borrowed some tapes and a book called "Spanish for Gringos." It was actually quite good, although the purists might not think so. Mostly listening to the tapes refreshed my memories of when I struggled with Spanish the last time we were in Mexico.

Preparing Our Homes Before Leaving

Donna and Dell have rented their house out for six months, and they're going to spend time in Baja after we leave mainland Mexico, and then visit their kids out west after that. But just a month ago (six weeks before we take off) Donna had major back surgery. She had five vertebrae fused together because the pain was getting to her. Since she never complains, Al and I didn't even know she had a problem! And two days before that, she went into the hospital to have some extensive work done on her throat! She's a gutsy gal, however, and refuses to let it get her down. I know she and Dell are doing a tremendous lot of work, getting their large house ready for the renters. They have a 28' Winnebago, and are going to tow a VW Rabbit.

We're in somewhat the same boat, except our house is smaller and is rented out for only one month at this time. Hopefully our realtor-friend will come up with someone else to rent it for another two months, since financially, every bit helps!

Bruce and Judy have arranged for someone to manage their properties for them. In some ways, it would be easier being full-timers RVers. At least there wouldn't be so many other things to consider. Plus Bruce and Judy have a cat for which they had to make arrangements.

Making Reservations

By now I've done as much planning as I want to do. I've completed the itinerary, with a couple of excellent suggestions from Carl and Lorena, and we've made as many advance reservations as we could. If we had been traveling alone or even with one other motorhome, we wouldn't have bothered with most reservations. But with three traveling together (which we like for security reasons), and with some of the campgrounds offering only six sites, we decided it would be a good idea. Especially since we would be traveling during the Easter holidays, which I understand is one of the busiest seasons for Mexican camping.

We made the reservations in a variety of ways.... faxes, personal phone calls by Donna, letters, and we came up with a few e-mail addresses, which was by far the cheapest and easiest way to make them.

We have confirmed reservations at probably half of the campgrounds that we want. However, we didn't get confirmations on quite a few of our faxes or letters. But, we definitely have confirmations for the Easter holidays.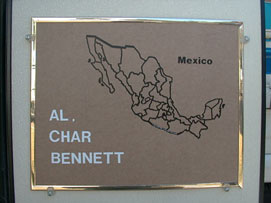 Only a few of these campgrounds have wanted deposits, fortunately. Two or three have wanted the checks sent directly to their bank accounts, and believe me, that was confusing! Trying to understand their bank addresses and account numbers as they give them over the phone is horrible! But we've tried!

AL and I had a week of a time-share condo left which has to be used by next summer, so Al and I requested and received a confirmation for a nice condo in Acapulco.... We like to take a break and live like real people every once in a while as we camp. Donna and Dell will share it with us, but Bruce and Judy chose to camp. This was another reason why we decided camping reservations and a firm itinerary would be a good thing.

Calling Mexico

One thing we learned, too late, is that there are phone cards explicitly for Mexico, at a fraction of the cost of regular AT&T calls. So our calls cost about $2.50 a minute, while with the card, the calls cost under $.10 a minute, after an initial charge for each call, much less than what we paid! A local Postal Zone shop here in Florida carries them. (Lorena's Note: Check our article on Telephone Calls and Phone Cards in Mexico.


Insurance

A several calls to various companies, we all (independently) decided on Sanborn's Insurance Agency. We each ordered it by phone, rather than waiting until we reach the border. We tried to get our Mexican papers in advance, but were told that since it's all done by computer now, we would have to wait until we cross the border.

What to Take

We got out our passports to carry along and made copies of the main page. We've also made copies of all the titles, registration, insurance, etc., pertaining to the motorhome and car. We'll keep a couple copies with us, and have a friend keep a copy here at home.... just to be on the safe side.

Here are some other items we are taking, some of which we thought of and some of which were suggested by guide books. In no real order they include:

1) Bring a cheap compass to carry while wandering around. I attach mine to my video camera, since it's always with me.

2) A fanny pack or belly bag (my only purse) with a zipper that zips from both directions so that the two tabs can be pinned together.... That's important!

3) A money belt and a small backpack, also with the zipper from both directions with a safety pin to hold them together.

4) A minimum of three active Visa or Mastercards, plus an old one to use as a decoy if necessary.

5) A small safe has been installed under the sink, and we're going to find two other semi-hard-to-spot places for extra cash and/or papers.

6) A list of family/friends' e-mail addresses. Keep them in your backpack or fanny pack.

7) Copies of all prescriptions for U.S. Customs when we return home.

8) Favorite toothpaste, shampoo, special foods, etc.

9) Warm clothes for sleeping in case we end up dry camping up in the mountains (our electric blankets aren't always workable!).

10) Small folding table and chairs since I don't know if Mexican campgrounds provide them... I doubt it.

11) Water filter, 50' electric cord, extra filters, fluids, etc., and extra small gas cylinders for a small gas grill.

12) Locking gas caps for both motorhome and tow car.

13) A locking "Club" for the tow car steering wheel.

14) Install the license plate inside the RV's back window, so it can't be removed for various reasons (primarily illegal parking....)

15) Attach side mirrors as securely as possible on both vehicles.

16) Forget tire covers.... too much of a temptation.

Most of these apply to camping anywhere, not just in Mexico.

Our Expectations

What do we expect to find in Mexico that might be different than here in the U.S.? Well, from past experience, on the whole the people have been exceedingly friendly and polite, although contact with Indians is always a little more formal. While there have been problems in recent years with robberies, extortion, etc., we're all expecting a really great experience.

But we'll also use our heads. We've had our pockets picked in Rome, and our video camera and credit card stolen in S. Africa, so we know these things can happen.... even here in the U.S. There is such an inspiring feeling to much of Mexico, however, especially the Colonial Cities, and such a romantic feeling to the coastal, touristy areas, that we aren't really expecting it to be that different. Well, maybe different in a really nice way, but not THAT different.

I know some of the campgrounds are going to be quite basic (no hot water... sorry!) but we're not leaving home to find some place just like home... we're looking for new experiences, and I'm sure we'll find them!!!

Now, I have to start thinking about what clothes I want to bring (mostly cotton), what special foods (easy to prepare!) and do a few last minute things to the motorhome. Then we're off!!!

See you later......



Char will be sending us Travel Reports as they RV through Mexico. Check their Home Page for Char and friends' latest adventures