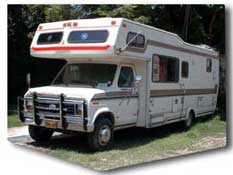 Finally... after decades of kicking tires and countless interviews with RV'ers in Mexico, Lorena and I are able to reveal our "Perfect Mexico RV" recommendation:
For all around mobility, economy, and comfort for both you and your pets, we suggest a self-propelled motorhome, 21 - 27 feet long. With an inflatable boat and a bicycle or two, this outfit will be ready for any adventure. In fact, if you're as hooked on side trips and backcountry exploration as we are, I might also add a small "runabout". For example, Lorena and I would undoubtedly want to carry our kayaking gear to some remote launch site, so we'd probably tow a cheap Japanese pickup truck with a light, lockable canopy "shell".
As it happens, Tony and Joan Sikes reached the same conclusion, but several years before us. We were fortunate to get a detailed tour of their RV shortly after I began writing this article.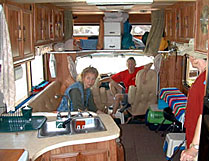 Once they'd been bitten by the Mexico travel bug, Tony and Joan began interviewing dealers and carefully weighing the pros and cons of both new and used Rvs. After long and careful study, they finally purchased a 1985, 27 foot "Establishment".
Joan didn't think much of the motorhome's dark, uninspiring furnishings, but Tony definitely liked the Ford 350 V8 engine. It not only had barely 20,000 miles of use, but this workhorse engine can be repaired virtually anywhere.
"Older Fords don't use electronics," Tony explained. "That's a big advantage if you do your own work or use a shadetree mechanic."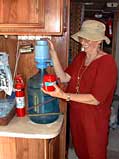 Their secondhand motorhome offered other outstanding features: a spacious "split bath/bed" interior layout with a stand-up shower, a generous hanging closet and plenty of leg room. Better yet, the price of this used, "off-brand" RV was low.
"In talking with RV repair people, we'd learned that the quality of new factory-installed appliances isn't that great. Because of bumps and vibration, they also to wear out very quickly." Anticipating warm weather, they installed a large gas/electric Norcol refrigerator, a beefier air-conditioner, and several small "area" fans. The electrical system was upgraded with additional storage batteries and a DC to AC inverter, plus a 6500 watt generator. Anticipating rougher roads in Mexico, they installed both sway bars and special shock absorbing airbags. "Good mirrors are essential," Tony advises. "They give you confidence, especially in Mexican traffic and when backing up."

Both of the Sikes are musicians, so Joan pulled out the dinette and replaced it with a small piano. (Unlike our van!) the motorhome has plenty of cupboards. These were carefully organized with baskets, trays and plastic storage boxes.
The basic mechanical condition of the motorhome was good, but Tony made several improvements, beginning with a full set of engine gauges. After noticing that the interior engine cowling got quite hot, even in Oregon, he installed a serious layer of foil-backed insulation, and redirected one of the air-conditioner ducts toward the driver's right leg.
"Mucho": the leader of the Sike's friendly pack of five dogs.
"Even in Mexico, the cowling is always cool to the touch."
The final touches would include a towbar for Joan's '92 VW Bug, and after they crossed the border, a husky Mexican "cowcatcher" front bumper grille.
Once they'd finished refitting, Tony and Joan actually had a better-than-new RV, customized especially for Mexico and warm-weather travel, at a fraction of the price of a newer, standard model.