Lorena asks: would Deborah like to reply directly to any of our questions?
I know this will disappoint you, but Deborah has asked me to write this response for her, as she is very shy about this sort of thing. I will do my best to convey exactly what she said and feels without filtering, to the extent that that's possible. (You're going, "Yeah, right.")

Alternatively, I suppose you could always take her out, share a bottle of tequila, and get the REAL real story, woman to woman, but I'd be waaay too insecure to stand for that. God only knows what might come out. :)

Anyway, here goes, in no particular order.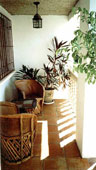 Deborah misses the social aspects of work. We are not sociable in our private lives, particularly. Meaning we never really have partied or entertained -- we're quiet, serious types; dull, shy, reserved, with no small talk. (Especially the husband.) So, Deborah's only real social outlet was her friends at work. She would occasionally go to lunch or out for drinks after work with her peers, and she misses that. Friends from her work have visited and stayed here with us twice, but it isn't the same for her as having daily interaction.

Also, in common with many newly-retired folks, Deborah misses feeling needed. She felt relied on at work, and here she doesn't. (My 'for what it's worth' comment: Deborah is not instinctively the domestic type, and the energy she put into her professional life is not easily transferred to cooking, running the house, etc. In any case, I like to cook, and we have a terrific maid and gardener who handle most of the rest of that sort of thing.)

Deborah misses spending money more freely, on her "own time" and her own whim. Even though she was never extravagant at all, she feels that she had a greater sense of control of her own spending money than she does now. If Deborah wanted to spend 3 dollars on a latte at lunch, for example, she didn't think twice about it. Now, she is always with me (we are together almost all the time), and my more, ahem, relentless frugality wears on her.

My comment: Deborah used to handle the checkbook and monthly bills. Now, in Mexico, things are reversed. As a practical necessity, largely because I'm the one who speaks Spanish, I handle the routine money matters. I think she may feel a bit "disabled" by this.

Deborah misses Mexican food. Meaning of course, Tex-Mex, border-style, or US-style Mexican food. As you know, that particular presentation can be hard to come by here.

Deborah dislikes the occasional sewage smell that rises up from the drains; and the occasional sewage odor that seems to stalk you from time to time in various Puerto Vallarta neighborhoods. My comment: Ironically, one of the positives of our little neighborhood in Coapinole is that we have never smelled "that smell" in the air here. Maybe because we are on a hill, up above most of the municipal sewage system. There is occasional odor from the drains, yes. But in the outside air, no. Conversely, it IS often noticeable in "luxury" areas. Even the air at the yuppier-than-thou Marina occasionally smells a bit. (Serves those spoiled bastards right, dontcha think?) :)

Like everyone else, Deborah also dislikes the dust in the spring dry season. Our block is cobblestoned, but most streets in this neighborhood are dirt. So dust is raised by every car and truck that goes by, and coats everything with a fine layer in the dry season. We have to hose it off our terraces and plants at least once a week.

Deborah is also displeased (naturally-who wouldn't be), by the ubiquitous burning of trash in the neighborhood, and the resulting acrid smell of smoldering plastic bags and bottles. Occasionally, we are driven off the terrace on a beautiful afternoon by someone burning trash downwind. Often, although certainly not always, there is a hint of that smell in the air.

Lorena, Deborah has read this over and "signed off" on it. She asked me to include that she does loves the climate here, and being able to go to the beach anytime we feel like it is a great thing.
OK, now that you've made the move to Mexico and are well settled, what is your typical daily routine?
...Up usually between 8 and 9 a.m. Turn on Cnnfn (CNN financial news). Make coffee. Feed Buck, our yellow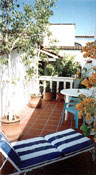 canary. Watch a few minutes of Cnnfn. Go to upper terrace to sip coffee and watch the world go by. After forty minutes or so, reassured that world is fine, at least here in Mexico, back down to face stock market coverage.

Around 10-30 or 11 a.m., log on to the internet. Surf net with one eye and continue watching TV market coverage with other eye. On web, check portfolios, e-mail, favorite live webcams from Vermont, Colorado, etc., work on web sites, etc.

Make lunch around 11:30-noon. Eat on second-level terrace or in front of TV. Then read or do little chores around the house for an hour or two.

2 p.m.-3 p.m Watch the final hour of trading on Cnnfn.

3 p.m. Walk up street to corner tiendita. Buy a few things. (Typical: tomatoes, eggs, fresh-baked bread, pan dulce.)

3:30-4:30 p.m. Hang hammock in garden. Swing in breeze. Read more.

4:30-5:30 p.m. Water plants on both terraces. Surf net. If any of our companies are reporting quarterly earnings, listen in to live conference call with Wall Street analysts on web. Have snack. (Cookies, pan dulce.) Make afternoon coffee.

5:30-6:30 p.m. Have coffee on upper terrace. Watch sunset. Watch world go by. (If it happened to be a particularly stressful market day, a Mexican terrace provides the perfect consolation.)

6:30-7:30 p.m. Back down, just in time for "Digital Jam" on Cnnfn. This is a must for us -- a good show on technology investing. Cook dinner. Eat in front of TV.

7:30-11 p.m. Surf net with one eye, watch CNN with other. On web, read stock discussion threads on companies we follow. Also online, listen to more live or recorded analysts' discussions of companies we follow.

11 p.m. Back to upper terrace. If it is a clear night, stargaze with telescope. (By the way, Carl, there are good views this time of year of Saturn and Jupiter. Rings and moons clearly visible.)


11:30 p.m. Gringo bed time. Maybe read a bit.

This is our typical Monday-Friday routine. On Wednesdays (usually), we fire up the Safari (a VW Thing) and drive to the local PV Lloyds branch office and withdraw a week's worth of pesos; pay any bills due; then grocery shop at the modern Gutierrez Rizo supermarket in Pitillal. Sometimes we'll wander through downtown Puerto Vallarta, through the south side, or walk along the malecon before heading to the grocery store. Or, we may have brunch or Bing ice cream.

Saturdays, the maid comes, 9:30 a.m. 'til 2 p.m. So, we clear out around 10, so she doesn't have to work around us. Often, we go to the beach on Saturdays.

Sundays, we may drive around looking at property we wish we could afford, or go back to the beach, or go to sip coffee and people watch on the southside of downtown (near the old Los Arcos hotel), or go to the PV Marina and look at incomprehensibly expensive yachts. ("Who are these people? Where does this kind of money come from? Good grief." Yadda, yadda, yadda.)

Or, more likely, we stay home Sunday and do chores around the house, read, watch old movies or football.

Return to the beginning of this interview