How did your friends and family back home react to your move to Mexico? Shocked? Dismayed? Supportive? ... and today?
There was no shock -- my eccentricity and determination are too well established for that. Some dismay, based on the standard fears of inevitable kidnapping and robbery (insert your paranoia-of-choice here). That's mostly dispelled by now. We keep assuring the fearful types back home that we're fine. Really. Feel safer than we did back home. Really. Etc.

There's a great line in Charles Macomb Flandrau's classic book, Viva Mexico. Something about how his friends found the idea of his moving to Mexico to be positively MORBID.

Today, our friends and family are mostly past the denial stage and into acceptance. They admit that we seem happier and look healthier than before, "But, still..."

Our daughter always was and is supportive. She spent a year in Spain as a teenager, speaks Spanish fairly well, and loves Mexico almost as much as we do. Our son-in-law works for a major multi-national corporation, and they have a plant in Mexico City. He's already told them if they ever wise up and move the operation from DF to Guadalajara, he'd relocate in a heartbeat.
What were the "practical" difficulties in moving to Mexico? Such as... paying your bills, divesting yourselves of home and furniture, etc.
We sold off or gave away almost everything: home, cars, furniture, winter clothing, even much of my library, which was painful, but books are heavy, and difficult to transport. I did bring one old decorative pair of wooden skis. I liked the irony of hanging them, crossed, over my faux fireplace here in Puerto Vallarta.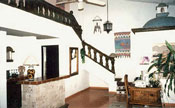 We'd used our Mexico house for vacations before we moved here, so it was already furnished. And in any case, our Colorado mountain-house furniture wouldn't have looked right in the tropics. Plus, clean slates have always appealed to me, and we were just never too attached to our "things."

Also, we didn't obtain our FM3 immigration status until we'd been here as full-timers for a couple of months. Only after obtaining FM3 can you bring in household furnishings, and one auto per household, sans customs penalties. There is also a time limit on this. It used to be that, after the date your FM3 becomes valid, you had 60 days to bring down your stuff. It may be different now. (As you know Carl, the rules here change almost monthly, or so it can seem. I haven't looked into the specifics in a couple of years because it is not an issue for us.)

What we did finally bring came with us as checked baggage on the airlines, over several trips. It wasn't much, I'll tell you. We had to pay small surcharges for being over the weight limit a few times, but it never amounted to much, either.

As for paying bills, we managed to clear all debt before leaving Colorado. We now maintain just one US based major credit card for use only when traveling or in emergencies. That credit card statement is sent to our daughter. Except for one IRA with a company that is trackable online, we use a couple of online US brokerages, one with check-writing services.

This works beautifully because, A: we can track our portfolios and money market balances online, everyday, and still feel "close to our money." And B: one of our brokers offers a special account with limited personal check writing (limited in that checks cannot be written for less than $300 each). This allows me to use an occasional personal check to make small deposits into my Lloyds peso account every two or three months. Generally, we keep our focus on the dollar, and transfer just enough into our Mexican peso account at Lloyds to have three months or so of living expenses ahead. In a pinch, we could simply use our US-based credit card for a peso withdrawal at an ATM here, but we've never had to actually do that.

One of the US brokerages sends monthly statements and trade confirmations, etc. through the mail. The other sends quarterly statements and confirms as warranted. Generally, these show up okay in our Mexican mail, but they often arrive as much as a month late. Happily, these statements are somewhat superfluous since we have already received all the info online.

By the way, I've checked into E-Trade, and they should be mentioned as an option. It should be emphasized, even though it seems like common sense, that brokerage policies regarding investors residing abroad (especially in Latin America) vary and often change. My broker might have handled some of my issues a bit more casually because I had a longstanding relationship with them that predated my move to Mexico by many years. Had I approached them as a new customer, planning to very soon reside abroad, they might have handled some things differently. Or not. Your readers will simply have to take the time and trouble to get on the phone with a brokerage rep and discuss their specific situation in some depth. There's no way around that.

So, the credit card and the US brokerage accounts are the only business we do in the US. Bottom line: I'm sorry to have to say it, but for none of these do we feel comfortable relying on the Mexican mail.

For sending and receiving occasional important documents in Mexico, we have used both FedEx and DHL. They work just fine and seem to be as efficient and reliable here as in the US.
Do you have any regrets about moving to Mexico? Ever get homesick? If so, what do you do about it?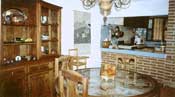 No regrets at all, that I can think of. I have to guard against sounding too smug (or fate will send me a quick comeuppance), but this has worked out even better than I expected. I was excited, but worried too, frankly, as we prepared for the big escape two years ago. We knew Mexico about as well as two non residents can, but still... I knew there would be a lot of adjustments. And there have been. But, nothing really serious or troubling whatsoever.

I hadn't been back to the US since Oct '97, until just a few weeks ago when we took a trip to Vermont and Quebec. I enjoyed that, but there was a real sense of relief and homecoming when I got back here to my little colonia. I found I missed all the street life, the corner tienditas, the general hubbub, the roosters, the folks on horseback -- in short, the sense of ongoing life and community.

Puerto Vallarta has been a harder adjustment for Deborah. She had to leave a job she loved; she doesn't speak Spanish and languages are just not her forte (plus, it's too easy for her to rely on me). And, she was skeptical that we would ever feel accepted and inconspicuous in this neighborhood. But now, we mostly do.

Deborah has returned to the US twice in two years. She knows I'm happy for her to go when she feels the need. She was depressed a bit at first here, and I was worried about her. I didn't buy a TV or computer until we had been here for about six months, and waiting that long was a mistake. As much as the purist in me hates to admit it, CNN, old movies in English, and being able to surf the net all go a long way toward alleviating culture shock.

In any case, Deborah's temporary downer mood is gone, and I think she genuinely feels good about being here now. (Mexico does have a way of growing on folks. Duh.)

We've had a fair amount of company as well (family and former co workers), to help her feel less isolated.

Deborah and I don't really socialize much, but that's purely because it's just not in our natures. What I think is relevant is that the opportunity is there for those who might be so inclined.

For example, right after I moved here (I was here alone for two months at the beginning, while Deborah tied up some loose ends back in Colorado), our two Mexican neighbors inside the wall invited me to Christmas Dinner, a new Year's Eve party, and lunch. I went to a couple of these; it would have been too rude not to accept. But I never followed up or cultivated this sort of thing because it's just not my style.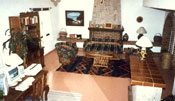 Perhaps an important point is that none of our neighbors seems to have taken undue offense at our lack of sociability. They seem to be perceptive enough to understand that we like them (we do), that we respect them (we do), but we're just quiet, keep-to-ourselves types. Hey, no hay problema. In fact, all the neighbors up and down the block, the shopkeepers, etc., are warm and sincerely friendly.

As far as the gringo crowd, well, guess what, we don't have much to do with them either.

But, once again, the bottom line for your readers is that there is plenty of social whirl available with fellow gringos, should they be so inclined. There is even a sort of mini-society-wannabe scene here, with all the standard posturing; the usual charity balls (yes, they do raise money for good causes, it's true-and pat themselves on the back so publicly, too-ha ha...), art gallery nights, high-falutin' cocktail parties, etc. Really die-hard social butterflies could probably go to several different "dos" a week.

There's even a gringo theatre group here and there used to be a writer's club. Not sure if that still meets or how "legit" it ever was.

Lorena asks: would Deborah like to reply directly to any of our questions?

OK, now that you've made the move to Mexico and are well settled, what is your typical daily routine?