Published: July 07
There has been a breakthrough product for Mexico travel, the Mexico GPS Atlas. This product is the most complete and functional (please note that we are not saying "perfect") GPS map for Mexico (Garmin compatible). The following link will take you to the Mexico Maps' website. Then click on the map for detail: :http://www.mexicomaps.com/mexico_gps.lasso?itemid=3351&-session=mmid:4766AB0811b3b2124EJtY40E9E3B

This GPS Atlas includes street level mapping for 44 cities in Mexico (including San Miguel de Allende and Puerto Vallarta).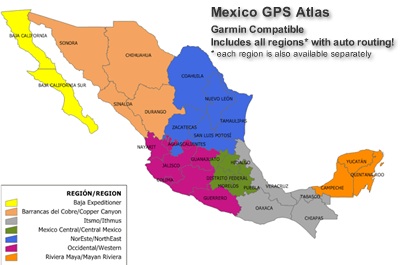 * Highways updated to 2007
* Street detail for over 44 cities - see complete list below
* Auto routing and navigation features in highways, strees, unpaved roads, double and single tracks
* More than 280,000 towns and rural locations.
* Extensive, over 45,000 points of interest database including geographical features such as beaches, mountains, lakes, dams, rivers and so forth. Also, urban points of interest such as hospitals, government buildings, shopping centers and more.
* Over 1500 gas stations along th Mexican Highways network.
* International and state boundaries, lakes, rivers, national parks.
* Contours at 50 meter (164 Ft) for the Baja Peninsula and 100 meter (328 Ft) interval for the remainder of the country.

City Coverage

Baja California-Mexicali, Tijuana, Tecate, Rosarito, San Felipe, Ensenada
Baja California Sur-Constitución, San José del Cabo, Cabo San Lucas, La Paz
Campeche-Campeche
Coahuila-Torreón
Chihuahua-Chihuahua
Distrito Federal-Ciudad de México
Durango-Cd. Lerdo, Gomez Palacios
Guanajuato-Guanajuato, León, San Miguel de Allende
Guerrero-Acapulco
Hidalgo-Pachuca
Jalisco-Guadalajara, Puerto Vallarta
Morelos-Cuernavaca, Jiutepec
México-Atizapán, Tlalnepantla, Naucalpan, Huixquilican, Ecatepec,
Nezahualcoyotl, Cuautitlán, Cuautitlan Izcalli, Tultitlan, Coacalco,
Toluca, Valle de Bravo
Nuevo León-Monterrey
Oaxaca-Oaxaca
Puebla-Puebla, San Andrés Cholula, San Pedro Cholula,
Querétaro-Querétaro
Quintana Roo-Cancun, Cozumel, Playa del Carmen, Chetumal
San Luis Potosí-San Luis Potosí
Sinaloa-Mazatlán
Sonora-Hermosillo, Puerto Peñasco
Tabasco-Villahermosa
Veracruz-Veracruz
Yucatán-Mérida

(it is a 180 Mb download).

The full product retails for $190.

Regards, Mark Walker

Mexico Maps
805-687-1011 TEL/CEL
mwalker@mexicomaps.com
http://www.mexicomaps.com