Baja Aficionados Cyber Gathering
by David Eidell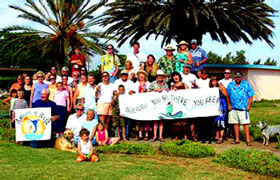 One of the more active bulletin boards on the México web site circuit is Amigos de Baja. Amigos started out as a website devoted to fishing and traveling the Baja peninsula. Over the last seven years, however, the site has also attracted many loyal "Desert Rats", folks who don't necessarily fish but who love to explore the land and meet the hardy breed of Mexicans who call Baja California home.

The desert rats communicated with each other on the extremely popular Amigos "General Discussion Center" bulletin board. Before long friendships began to be formed. A planned casual meeting between two participants expanded in a blink of the eye into an invitation-only dinner engagement for forty people. This first "Viva Baja" get-together was held in San Clemente, California and was a wild success. Six months later another was planned. It included slide show presentations by author Graham MacIntosh. Graham actually walked the entire coastline of the seven hundred mile peninsula, then recorded his adventures in an exciting book, Into A Desert Place. Also present were noted Baja webmasters Fred Metcalf of Fred Metcalf's Baja Discussion Board , Hugh Kramer from Discover Baja and of course the webmasters trio from Amigos de Baja itself: Earle, Eric and Trish Robitaille.

The success of these first get-togethers led to the planning of a "Boojum Buddies Baja Bash" (the Boojum is a curious upside-down carrot like plant endemic to Baja California). By far the most ambitious of the cyber get-togethers, the "BBBB" was held in early July, 2001, at the Cielito Lindo Hotel in San Quintin, Baja California.

The Cielito Lindo Hotel turned out to be the perfect choice for such an event. The sprawling restaurant-bar and hotel complex was near enough to the beach (1/4 mile) and far enough away from town to offer BBBB participants a mini-vacation.

Seventy participants straggled in over the first day. They came by automobile, bus, taxi and airplane. Some had motor homes and others brought trailers and pickup campers. It was a perfect representation of the character of folks who call Baja and México "A Second Home".

A special Saturday "comida" featured carnitas, oysters on the half shell, rice and beans and stacks of flour tortillas. Blenders whirred and beer bottle caps popped as the festivities roared and swayed. I was amazed at the level of congeniality and genuine warmth that was present. The average age of the participants was around fifty years and camaraderie was at a very high level. Stories were exchanged, spontaneous cheers and revelry ruled and the day passed all too quickly.

When it was suggested that a group photograph be taken, one thing led to another and a talented artist in the group made banners for Amigos de Baja's logo, and "Wherever You Go There You Are" for The People's Guide to México. The BBBB'ers are a "Can Do!" group!

One of the principal architects of the Viva Baja and Baja Boojum Buddies get-together is a man by the name of David Kier. An individual whose spare time is utterly consumed with Baja California, David acted as "information central" for all of the Amigos. In addition, this human dynamo is working on a revision and update of a book on early Baja Spanish missions. David is also partners with another Amigo in "Viva Baja Tours". The Viva Baja tour vehicle is a brand new one-ton 15-passenger van with four-wheel-drive.

For most folks the three day long BBBB celebration would have been enough recreation to last through the summer. But David Kier wanted even more adventure. So he planned a jaunt to a really remote area of the peninsula, to look for a fabled "Lost Mission" site first reported by early Baja explorers Earle Stanley Gardner and Choral Pepper.

So... early Monday morning, five of us plus David's two young children waved sadly goodbye to fellow Desert Rats at the Cielito Lindo Hotel and struck off southward for new high adventures.

The Viva Baja tour van is a wonder in itself. Special dual-air conditioners kept the inside cool and dry even though we left the sea coast far behind and climbed onto the high desert plateau, baking under hot under the mid-summer sun.

As we motored down the Transpeninsular highway toward Los Angeles Bay, David explained that the lost mission wasn't really a mission at all but a trial experiment that had been built by the Spanish to check out available water supplies and crop lands, and even more importantly, to prepare heathen Indian souls for conversion to Christianity.

Hours later we found ourselves at an outdoor patio restaurant having supper. Even though the sun had gone down the temperature was still near a hundred degrees and a fierce wind was blowing. There was no doubt that mother nature was reminding us that Baja California can be less than hospitable in the summer. We repaired to a campsite at water's edge and after awhile our group fell sound asleep.

The next morning a local businessman, "Doc Abraham", happened to mention that he knew of an elderly campesino who was born and raised near the supposed "mission" ruins. We soon found ourselves at a remote rancho where we met Jesus "Chuy" Flores, skinny as a rail and dressed in his tattered, best Sunday Go To Meeting Khakis. Doc warned us that Chuy tended to say little if anything -- and what little he said would be in a mumble. I also knew from long experience that Mexico's campesinos tend to beat around the bushes two or three times before they get to the subject.

Leaving Chuy's rancho with another four-wheel drive vehicle following, we headed south on the trail to Bahia de Las Animas. Jesus promptly fell asleep under the cooling blast of the air conditioner, but David had a pretty good idea of how to get to the area in question. As we drove further and further off the beaten path, signs of civilization became fewer. Huge Palo Verde trees shaded sentinels of cardon cactus. Other cacti included Barrel, Pitahaya, Prickly Pear, Cholla, and old man (bearded) cactus. To our right the escarpment of the central Sierra de San Jose reared up, purple and imposing. Jesus stirred and suddenly became quite animated. "Unnuahh" he grunted, pointing a gnarled forefinger across the lush desert vegetation. The others immediately wanted to know what our guide was trying to say.

"Jesus, what are you pointing at?"
"Flores"
"Flowers?"
"Flores, the town!"
"What about Flores the town"
"That's where it is"

David explained that Flores is now a ghost town but back in Jesus's prime, it was a roaring silver and gold mining town. Cowboys and miners kept the cantinas filled and banditos kept the mine owners worried.

We soon came upon a fork in the trail and took the lesser of the two tracks, off to the west. Jesus kept pointing vaguely off to the right where there were no tracks and muttered vaguely, "Uuuy!"

"What's that Jesus? "
"My mula (mule)"
"What about your mule?"
"He was very stubborn."
"Oh yeah?"
"He pulled me through those cactus more than once."

Eventually we butted up against the mountains. Billowing white cumulus clouds were piling into serious cumulonimbus formations.

"Mrrhmmph"
"What's that Jesus?"
"Nubes"
"Clouds?"

He wagged a bony forefinger back and forth in warning. "Los arroyos son peligrosos".

"I think he's trying to say that there's going to be a thunderstorm. There's a real danger that the arroyos are going to become flash flooded.

The land and vegetation outside the van's tinted windows was utterly wild. With civilization far behind, the trees and cactus lived and died without the hand of man rearranging the look of the land. Giant mesquite trees grew in clusters, huge limbs of deadwood drooping onto the ground. Cardon cactus fell over to reveal the hollow lattice-like hardwood heart that is almost never chanced upon in civilized areas.

Jesus urged us to enter the mouth of a steep canyon and so we left the faint track and struck off cross country. The huge vehicle barely left a set of it's own tire tracks as David deftly steered around bushes and stately cactus. By trial and error we made our way deeper into the canyon and then suddenly came to a stop before a large boulder cluster.

While the six adults, two children and Jesus ambled up the canyon grasping cameras and water jugs, I decided to stay behind because of a recurring back problem. The passenger of the other vehicle was on crutches but John Perko and I were soon counting our good fortune. In front of us over the crest of the Sierras, the flaring clouds had taken on an ominous shape reminiscent of a cobra displaying its hood.

An hour passed. The clouds advanced eastward and were now overhead. A distant peal of thunder rumbled past and we started to talk about the eventuality of a flash flood coming down the vertical walled canyon. We decided on an escape route just as the first drops of rain spattered on the dusty windshield. Suddenly John cried, "There they are!" . Within minutes we'd backtracked the van to open terrain and relative safety. On the way home the thunderstorm inspired us with frenzied flashes of lightning and the booming cadence of pulsing thunder.

Did our friends find the Lost Mission? Well... what Jesus had thought to be the site actually turned out to be a "tinaja" (water seep) that did play an important part of the history of this area of Baja California. That's Baja for you... the lost mission is waiting for a future expedition to be rediscovered.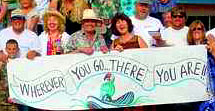 ---
Mazatlan - Costs, Housing, Work
by Art Jones


Hola Lorena and Carl: as you predicted, since you published my first letter concerning life here in Mazatlan, Sinaloa, I' ve been getting a ton of letters asking about retirement and other prolonged stays. The most common question these folks have is, "How much is it gonna cost me each month to live in Mazatlan.?


In the last few years I've seen folks here with such widely varying "comfort zones" that a stock answer to this question is impossible. My answer is always, " that depends... it depends on what you were comfortable with in the States or wherever you're from".


The second-most common question is, "Can I live in Mazatlan on $xxx per month?". As with any question that begins with "Can I?", the answer to this one is always "Yes!". Of course, the question is really, "Will I be comfortable living on $xxx per month?".


At this very moment, there are probably apartments available in a reasonable part of the city, if not in the Centro Historico itself, for as little as 1000 -1200 pesos per month. (Carl's note: the U.S. dollar is currently worth about 9.2 pesos.)


These apartments won't be near the beach, and they obviously won't be in one of Mazatlan's more fashionable barrios (neighborhoods) but they are available. But, as you know, such bargain places are generally not turn-key operations. Often the damage from the last tenant is considerable, and in these lean times it is often impossible to get help from the landlord for any fix-ups you have to do. Apartments at this price don't usually come with stove or fridge, and even the light switches may be missing from the walls. They'll almost always need paint and considerable TLC. You furnish a place like this to meet your wishes.


If you can afford to move up into the range of 2500 pesos and more, however, things rapidly improve. An apartment or house for 2500 pesos will get you somewhat closer to the beach, although you may still have to furnish it completely.


Considering the services that are available in Mazatlan, I still believe this is the most undervalued city on the Pacific Coast. Property prices have certainly been rising rapidly for the 4 years that I've been here to witness. Gringos 'in the know' and with the means to do so are buying whatever is available, and renting long-term what is not for sale.


In spite of this, however, Mazatlan has in no way reached the atmospheric price levels of Puerto Vallarta, Acapulco, and other popular beach towns.


Do folks really live in Mazatlan on $600, $800, or $1000 per month?


You bet they do, "con mucha felicidad". Many, many Mexicans live on much, much less. The relevant question remains, Àwhat is my level of comfort? (I know that you emphasize this a lot in The People's Guide To Mexico).


I find my own comfort level has changed somewhat in the last 35 years. How about you?


Another popular question is about the availability of work in Mazatlan.


I advise, "if you need or desire to work, bring yours with you or create work here". As it now stands, there really isn't much work to go around. A few Gringos make a precarious living teaching English ( you don't have to speak Spanish to do this). Their salaries are maybe 5000 pesos a month, tops.


Of course, the infamous Gringo timeshare hustler still abounds in the Zona Dorada. There are also those who have bought a job by becoming proprietors of -- you name it -- bars, restaurants, B&Bs, property managers/real estate sales, etc. etc. With the Mexican economy as tough as it is right now, it may be difficult to squeeze much profit out of these enterprises, but there are a few hardy souls out there working at it.


All in all, retirement in Mazatlan can be a snap. It can also be as pleasurable and comfortable as you want it to be. The first step is to visit Mazatlan, and then stay here as long as possible. Find a lifestyle that is comfortable for you, and like the sneaker guy says, "just do it!".


One can collect all the information in the world but in reality it's the experience that counts. Everyone's experience of a place, a city, or a country is unique to themselves. It's really not that complicated -- and believe me, if I can do it, anyone can.


Anyone who is seriously planning the "big move" or an extended visit to Mazatlan should feel free to e-mail me . I'll do whatever I can to help.


As always, your pal... Art

---