My Bubbies, who died over thirty years ago, came to me once before at the beginning of our trip. The first morning in Honduras I awakened to what sounded like animals rioting. Birds especially screamed, screeched, hollered, whistled and chirped in the nearby jungle. Dressing quickly, I left my cabin and walked down to Lake Yojai, only a few minutes away, passing two caged macaws and familiar-looking plants like the philodendron and poinsettia we have in pots at home, but here explode into trees and bushes. Carl describes it as nature on steroids.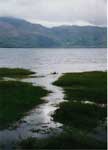 The path ended at a panoramic view of the lake, dreamy and calm. As the sun rose and burned off the haze, the distance sharpened into the great earth swells of the Santa Barbara mountains with the jungle to the right, a lush dense mat of greenery.

An egret perched on a wooden raft a few feet away from shore, not far from the bass fish farm, delineated by ropes and nets to my left, started in the nineteen-sixties for American hunters and fisherman. We had bass from this lake for dinner when a friend of Max's steamed the fresh fish with herbs and vegetables, each serving wrapped in a large jungle leaf. An amazing meal.


Boats at inlet on lake Yojoba
Hundreds of years ago, this area was a bustling cosmopolitan center for several Indian groups, who have since disappeared. I am pulled by the powerful silence of the mountains and all that has once happened around them. How many people from very different times and cultures have stood on this shore like me admiring the scene?

Aspects of my life once seemed as solid as these mountains. But what I thought I knew about people and about myself has erupted over the past few years; parts of myself awaking. Where do I draw lines and accept the values of the past as truths? When do I seek more, cross those lines, reinterpret what I want, and make new decisions of who I am and what I can do?

What is good and rewarding; what selfish and destructive? How do we make good decisions solid as mountains?

As my mind quiets to the rhythm of the lake, I remember myself back in Chicago, a shy kid whose spirit for adventure came from books. I was lost in space those days, barely connecting to adults. It is my grandmothers, who I barely knew, that I am remembering this morning. Women from Eastern Europe, they were always old to me. I barely understood their English. Yet, after they died, I was angry that I knew so little about them. We had few if any intimate moments together, and the way they lived has disappeared along with them.

I never thought that anything my grandmothers and I did or wanted was similar. They immigrated to the United States as young women in their twenties. I never imagined either of them as young, let alone adventurous, and I only know small parts of their stories. I never imagined what it was like for them, young women, one with a young child, coming to the United States. They came, sight unseen, fleeing the oppression of Jews back home. They didn't speak the language, had no guide, no Pepto Bismol, no travel or medical insurance, no shots for new diseases (that eventually took a daughter's life). I don't even know who they knew in this country when they arrived.

I wish I had asked my grandmothers about their journey to the United States. I could understand this part of their life now. Yet they probably found the idea of sharing such experiences with their shy American granddaughter as foreign as calling the United States home.


Lorena's new hat
The professor opens a latticed metal gate and leads us into a courtyard. A woman with three young children offers us straw hats to buy. We try them on and bargain. For those who don't find what they want, the woman returns fifteen minutes later with more. Meanwhile, cooled by overhead fans, we lunch in a restaurant that looks like the large living room of someone's house with nine tables in the center. Antique wood and glass china cabinets, cushioned chairs, and end tables covered with family photos line the perimeter of the room. An occasional high shelf displays antique plates, goblets, and a bottle of wine. Old World comforts.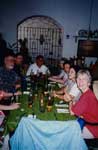 Our host puts three tables together for us, and a delicious family-style meal is served with platters of chicken and beef, refried beans, bowls of cream and rice, tomatoes, and fried plantains. The professor has become more comfortable with us, and after lunch he takes us to the church on the square and a woman's craft collective. Rejoining Max and Carl now waiting for us at our hotel, we drive up above the town in our repaired van to admire the view as the sun sets.

Far below, patches of emerald and wheat-colored fields cover the valley on the outskirts of Santa Barbara and rise into the stately mountains before us. I'm unaware of our awed silence until the professor speaks; his English much improved over the past few hours.

"You can't paint this... a-a-..." His hand sweeps out toward the mountains.

"Landscape," I offer, and he nods and repeats,

"Landscape. I've tried many times, but nothing can get, take... hold..."

"Capture--"

I fill in his words like I once did for my grandmother.


"Yes, captures this beauty."

He shakes his head thoughtfully. We nod, smiling, and understand what he has difficulty saying but not feeling, acknowledging the experience of time and beauty, the sensation of power, of nature's staying power; it is what lasts, what we can never control or capture.

The professor announces that conversation with us has done his leg well, and, instead of parting, he invites us to his house for coffee to meet his wife, La Señora. His coffee, he explains, he grows and roasts himself, along with "peppers," which we later determine are allspice. Throughout Honduras we passed piles of green coffee beans drying on the side of the road, and are anxious to taste it.


Back in town, we enter the professor's house through thick wooden doors off the street and are astonished by a vast outdoor courtyard inside, replete with palm trees, leafy jungle plants, and flowers. This is a compound, not simply a house. Adults and children sit and play and talk. Several nod hello at our entry.

"Welcome to my humble home," the professor says in careful English.

Introducing us to a niece, a grandchild, a boarder, he leads us down a short corridor and up a few stone steps to his apartment. Once we are seated in a comfortable small room lined in mahogany, he leaves to get us coffee.


The Senora in her 100 year-old Kitchen
La Señora arrives with several steel thermos bottles full of coffee and baskets of sandwich cookies wrapped in plastic, American style. She is a spry woman with wisps of white hair dancing around her face. The edge of a smile, perhaps a joke, opens her lips, and her warmth comes through even though we don't speak her language. And the coffee is some of the best we've tasted, low in acid yet full of flavor.

All too quickly, she disappears. Though a grand niece of a popular Honduran president, and almost eighty, La Señora still prepares all the meals for the boarders and the relatives on a hundred year old wood-burning stove with the help of one or two other women.

After a leisurely coffee break, the professor shows us around his apartment. Upstairs, we slip in and out of small dusky rooms filled with faded tapestries, hand-carved beds, dressers and mirrors. In the largest room, the professor unlatches double-doors that open onto an outdoor balcony. We step outside and are awed again by the sight of the Santa Barbara Mountains, sudden and bold, above the housetops. A distant crescent moon begins to rise beyond a peak.


We end up in the professor's study, a tiny room that is almost completely filled by a large wooden desk piled high with paper, books and framed family photographs. Behind his desk, the whole wall is lined with bookshelves stacked with more books, newspapers, and magazines.


| | |
| --- | --- |
| | |
| The Professor demonstrates his sword to John | |
| | |
But it is the sole photograph on the top shelf of a handsome young man that attracts our attention.

"Ah," the professor says, seeing us eye the photograph. He frowns and struggles to explain a mix of thoughts he'd like to share with us: people he's just met and who only know him as an older man.

"How do you say--?" he begins, his forehead knit in a clash of thoughts. A smile creeps through. "All the women... when I was young... You know..."


That evening we no longer feel like tourists. A man from the small mountain town of Santa Barbara, Honduras has invited us into his house. We are from different countries and cultures, we speak different languages, and yet we get a snapshot of his life, his family, and even a little of his past, feeling a connection notwithstanding our differences.

We walk back to our hotel under a starry night, cafes and street corners teeming with laughter and conversation, the moon now shining brightly overhead. I feel the fullness of the day. It is as if time stood still. My concerns about this trip have all but evaporated. The past few hours were more like a memorable concert, a great party, or one of those rare, all-night discussions at school when time was suspended and one's isolated self connected to a greater sense of humanity.